13° Kongress EVS

Co-Funded by the European Union
Der 13. Kongress der Standesbeamtinnen und Standesbeamten Europas – 13. und 14. Mai 2013, Bled, Slowenien
Ankunft: 12. Mai 2013
Abreise: 15. Mai 2013
Speeches
An overview of law and administration in the field of civil status in the Republic of Kosovo Prepared by: H.E Mimoza Ahmetaj, Ambassador
Registration in a UK Devolved Administration Prepared by: Rod Burns, Deputy Registrar General for Scotland
Auf den Wege zu einer Anerkennung von ausländischen Personenstandsurkunden Prepared by: Prof. Dr. Gerard-René de Groot
Auf den Wege zu einer Anerkennung von ausländischen Personenstandsurkunden Prepared by: Prof. Dr. Gerard-René de Groot
Aus aller Welt – Personenstatus in verschiedenen Ländern – Besonderheiten Kurzreferat von Willi Heussler, Schweiz
Civil status registration in Europe – views from Croatia Prof. Dr. Nenad Hlaca Head of the family law division, legal faculty of Rijeka, Croatia, vice-president of the Croatian Section at the CIEC
Facilitating life events – Revisited Hanno V. Freyhold
Informatisierung des Personenstandswesens – der Weg zum europäischen Register Walter Grosinger
Registration of foreign certificates in Romania Renata Mihaela Marin, President of National Association of Romanian Registrars

Co-Funded by the European Union
13° Kongress EVS
Change in the EVS Vice Presidency
In the meeting of the EVS Assembly in Bled , on 12th May 2013, the Vice President Dr. Bojana Zadravec resigned, due to other major tasks. The Assembly, taking note of her vacation, after remembering her efforts during these years, both as member of the Fachbeirat and as Vice President, elected unanimously Jürgen Rast, President of the German Association.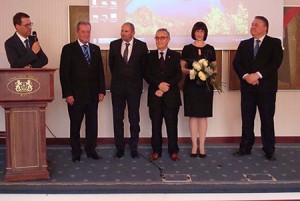 Der 13. Kongress der Standesbeamtinnen und Standesbeamten Europas – 13. und 14. Mai 2013, Bled, Slowenien
Ankunft: 12. Mai 2013
Abreise: 15. Mai 2013
Für die Fragen werden wir Ihnen unter bojana.bz@gmail.com zur Verfügung stehen.
The 13th Congress of the European registrars – 13th and 14th of Mai 2013, Bled, Slovenia
Arrival: 12th of Mai 2013
Departure: 15th of Mai 2013
You can send us the questions on bojana.bz@gmail.com
http://youtu.be/aZyvdfKxpSk
"Mr. Paride Gullini EVS President – Presentation Movie"

Sponsor of the congress: Logo
Verlag für Standesamtswesen GmbH